How to create "Add me to Search" in Google and how it affects SEO
Have you ever thought of owning a virtual business card on the first page of search engines? Well, it's possible now with the latest addition of the Google "Add me to search" option.
By setting up a personal profile you can easily be discovered on Google, where searchers can uncover your websites, online profiles, and contact information.
Whether you're a business professional, a performer, or you're simply intended by the prospect of building an online presence, the 'Add Me to Search' feature is a beneficial method. Imagine that you're just starting a business and have little to no online presence. With the help of an online 'People card', you can link to your website, social profiles, and ultimately highlight an existence from which you can build a foundation.
As the best SEO Company in Kerala, we have noticed that this exceptional addition can help you amp up your self-branding game. Here, in this post, we shall provide deeper insights into the "Add me to search" function and its SEO ranking capabilities.
What is "Add me to Search?"
"Add me to search" is Google's initiative to help its users create a virtual visiting card. It shall contain all the vital details of the person, including their picture, contact number, address, social media handles and other necessary links to the portfolio. Also known as the "People's card", this feature is for you to showcase the best of your works and grasp leads from the search engine.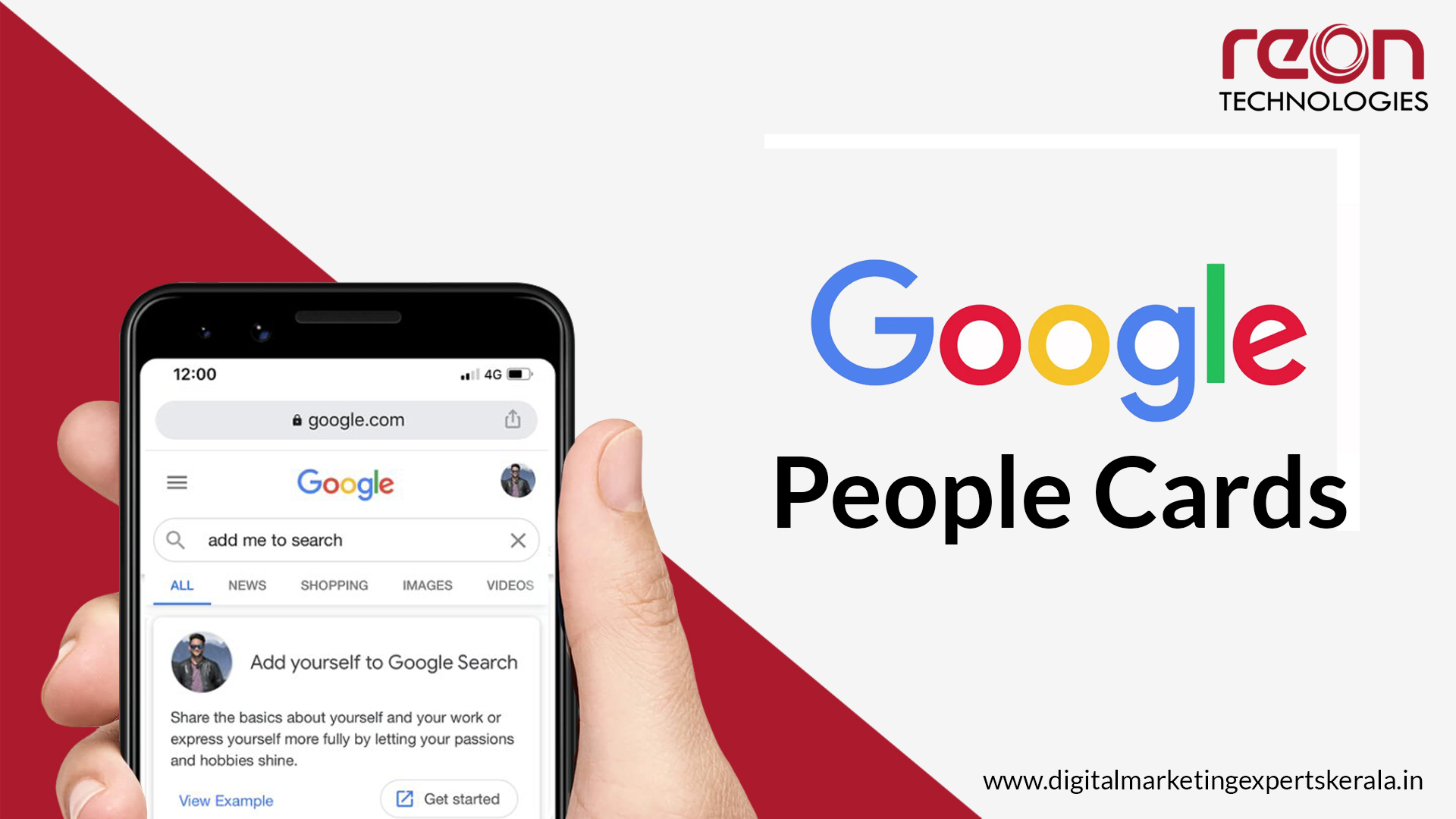 This way, users can find you or your business whenever they search for you on Google. You can also add images, links, and text that let people who find your name on Google. As per Google, the people card has been designed to help business professionals, entrepreneurs, freelancers, influencers, etc. gain visibility and grow their online presence. It is a quick and easy way to build your reputation in an increasingly manner in this digitalised world.
For now, the "add me to search" feature is available only in India, Kenya, Nigeria and South Africa.
Distinct features of "Add me to Search"
As the leading SEO Company for your business, we shall inform how beneficial the "Add me to search" tab. is multiple distinct features make it an integral element of your online presence.
Users can add all their details on the "People's Card"
You can jot down a bio to summarise your work
One can link all their social media handles here
One can add their picture to the card
Users must authenticate the card with their mobile number
How does "Add me to Search" affect SEO?
The "Add me to Search" tab will be a knowledge panel with links to your social media handles. These shall highlight your work and help prospective leads to reach you easily.
According to Google, and the best SEO company in Kerala, a "People's Card" duly filled with all the relevant information and links will increase visibility and help elevate the search engine rankings. Once a viewer searches for your name, the "Add me to search" card shall be instantly available, delivering all the vital details.
Google ensures reliable information through the "Add me to search" card. There are policies to eliminate imposters and maintain a trustworthy knowledge panel. Hence, the "People's card is a platform of reliable information helping it to rank.
How to create "Add me to Search" in Google
Creating the "Add me to search" card for yourself is an easy task. Or the SEO Company for your business can also create the same for you. Below are the steps to create the "People's Card".
Open the "Google" app on your device.
Type "add me to search" in the address bar.
The first result is to create the "People's card".
Click on "get started" to begin creating your card.
Fill in all the necessary information, i.e., name, bio, location, job, etc.
You can fill out all the relevant information in the tabs.
Add links to your social media profiles.
Google shall instantly connect with your email and phone number that cannot be changed later.
Preview your card to see if all the information is accurate.
Once satisfied, save the card, and Google shall immediately index it in the search engine.
How to create "Add me to Search" in Google
Increase visibility for personal branding
Increase visibility to expose a company brand
Positively influence the customers to increase sales
Gain an online presence
Highlight your existing website/social platforms
Create a virtual profile to help searchers quickly discover important information
Showcase your personality, portfolio, and work endeavours
Conclusion
Appearing at the top of Google Search results is a luxury that can be achieved with the Add me to the Search feature. Establishing an online presence has never been easier, so why not plan to create a virtual card today and reap the associated rewards.
Reach us for more options. We are the SEO Company in Kerala specialized in generating website traffic from search engines and paid ads.