HOW TO INCREASE INSTAGRAM FOLLOWERS IN 2022
Instagram is the newest destination to brand your business and make more profit. Though it was looked down upon as a photo-sharing app for the Zen Z, now people know its reach and are weaving a unique digital marketing strategy to rule the app. It isn't easy to reach your target audience with every other brand creating amazing content. The main ask is to increase followers to have an audience spread the word. But how?
Well, the best social media marketing company in Kerala is here to help. Let's begin.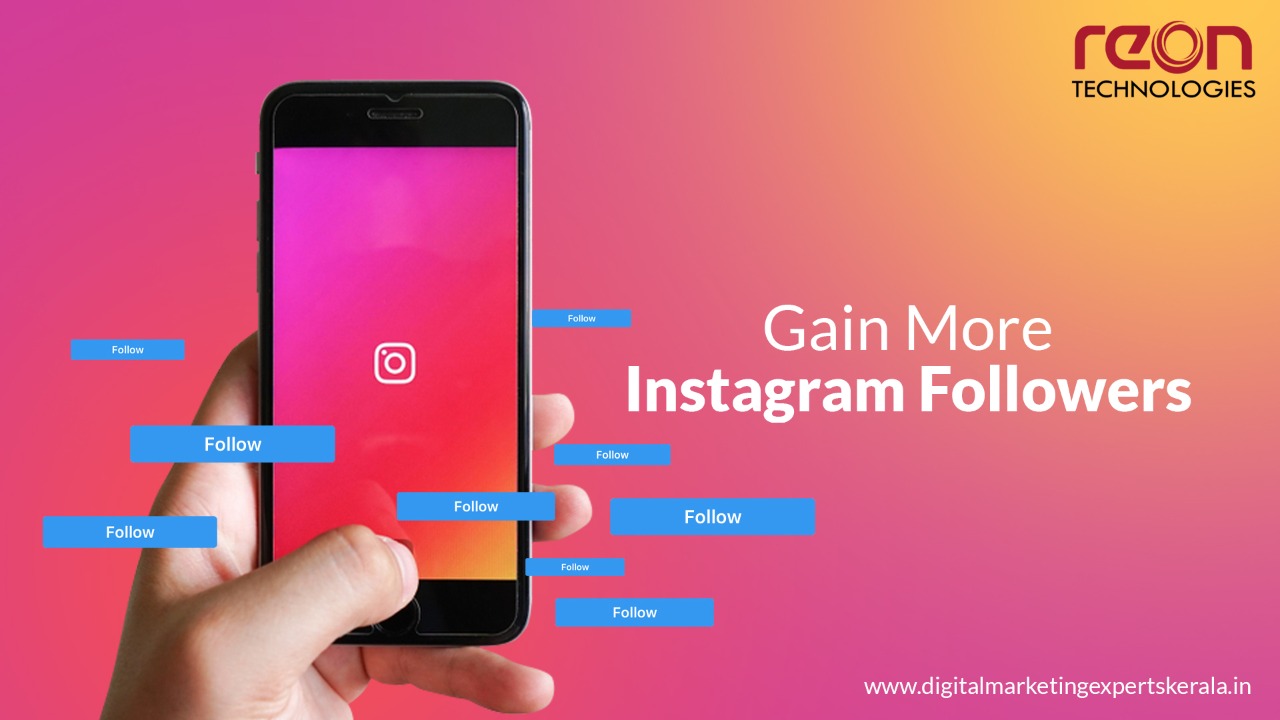 Elaborate the introduction
The Instagram bio provides a limit of 150 characters to disclose your brand. Make the best use of these 150 characters by not only elaborating your products and services but by making the disclosure intriguing. A precise description that includes a call to action is ideal to elaborate your bio. Also, don't forget to include the bio link. You can play with links to lead the viewers to a plethora of your products. Connect with the best social media marketing company in Kerala to get the right bio link for your profile to stand out.
Create Unique Content
Uniqueness in content is not just a tip to increase followers. It's an essential of marketing. However, with so much content released each day, it becomes imperative to think ahead of time. Create some fun stories and wholesome content that resonates with the sentiments to spring up your followers. Take advantage of Instagram reels that's a hit now and showcase your exciting personality. The best digital marketing strategy says to go with the flow yet keep thinking ahead and making the journey nothing but fun.
Use Catchy Captions
Let's agree that captions are the true hooks of Instagram content. If your pic or reel catches attention, the caption shall retain it. Work truly hard to find the real gem of words to elevate your content and make people find their true sentiments with the caption. Or, you can also have the easy way out. Reach for the best social media marketing company in Kerala to write awesome captions and wind wholesome content to keep the number of followers increasing.
Hashtags to Rescue
Hashtags provide a larger exposure to your posts. However, using suitable hashtags requires adequate research. Using the right hashtags can expose your Instagram feed to a large audience. Also, the key advantage of hashtags is that it's the target audience that reaches your feed. Hence there is an increase in followers and conversion too. Instagram allows 30 hashtags with each post. But, you require to use the necessary ones. The best digital marketing strategy for the Instagram hashtag is to avoid crowding the post and use only reliable ones. The best social media marketing company in Kerala can guide you with the necessary hashtags for the post.
Post at the Right Time
Let's break the myth of the right time. The advice to post on a specific day and time to gain followers is a bad idea since every business has a separate target audience. Once you begin posting, it shall be easier to analyse the time of maximum views. Here the analytics can help you schedule the next post for a wider reach. The best digital marketing strategy is to perform an in-depth analysis of each post and its reach to spot your right time to post.
Upload Consistently
Consistency can take you places. Be it reaching your career height or for Instagram followers, remain consistent, and you shall bear the fruits soon. Once you begin to post on Instagram, decide how you will take this in the future. It may be 7 posts in a week or in a day. Whatever is decided must be followed, so the viewers know you are reliable. Hence, always makes doable decisions and keep following them. The best social media marketing company in Kerala states uniqueness and consistency as the key to success on social media handles.
Promote Well
Do not shy from promoting your content. You can use all the other platforms for the same. There are Facebook, Youtube, Pinterest, Reddit, Tumblr and many more places where you can share your Instagram posts and reels to attract viewers. If they find the content fascinating enough, they shall surely click the 'follow' tab.
Conclusion
Increasing Instagram followers may be easy with a few hacks here and there. However, retaining them is the biggest battle. Here is why you require the best social media marketing company in Kerala to devise the best digital marketing strategy. Reach out with us for your Instagram profile upgrade, and we shall surely share a few more tricks to a shooting follower list.